Welcome to Maui Fishing Secrets!

Aloha, My name is Armelio Cabatingan. My boat name is the "Rainbow Runner". I grew up fishing here on Maui with my father and grandparents, who fished for a living. Through out the years I have learned different techniques and secrets of fishing. I have been very successful commercial fishing and in tournaments. In this blog there will be bottom fishing, trolling, crabbing, fishing buoys, baiting, using the green stick, baiting and much more.



This was our big win in 2007! The Maui Trailer boat club Hanapa`a Fishing Tournament, was in July of 2007. My son-in-law, BJ Cabanting, caught the 414 lb. Marlin and my daughter, Nani Cabanting, caught the 677.5 lb. Marlin.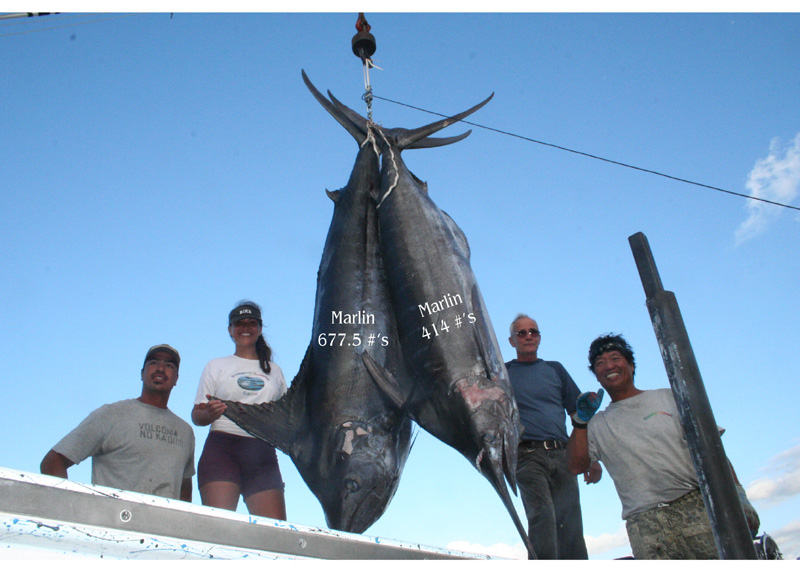 Aloha everyone!
Just thought that you would like to hear, we will be posting some pictures from our exciting Marlin catches. I will also share with you the lures that made those catches happen.
Whoootaaah,
Rainbow Runner


Aloha everyone!
We've been using mostly nine inch lures to catch Ahi, but we heard the majority of the Ahi now were being caught with the five and seven inch lures. So we are now running more of our seven inch lures.
I heard about six Ahi on the South side and about eight on the North side have been caught. The sizes ranged from 104 lbs to 196 lbs. I also heard several more hook ups and long fights, only to end with broke line and fish hemo.
Whoootaaah,
Rainbow Runner



Aloha everyone! Yesterday we went out to the North shore. We launched out of Kahului harbor and went to the M buoy, which took about 5 hours. We heard had some action earlier part of the week with Mahimahi, Shibi, and big Ahi from 20-190 lbs. Most of the action was caught at night and early morning. But by Saturday, which is our normal fishing day, the action slowed down. The Mahimahi, Shibi, and Ahi moved out and were replaced by Dolphins. We were disappointed, but we know the Dolphins gotta eat too.

On the way up we got a few good strikes, that didn't stick (must be the rubber hooks)! But we did manage to land about seven Mahimahi, which made our trip worth while. The crew had Mahimahi for dinner!
Whoootaaah,
Rainbow Runner




Archive by Month





Blog Stats





Posts:

214

Comments:

79

Visits:

55,809

Page Views:

169,608
©2023 Maui Fishing Secrets, All rights reserved.