Welcome to Maui Fishing Secrets!

Aloha, My name is Armelio Cabatingan. My boat name is the "Rainbow Runner". I grew up fishing here on Maui with my father and grandparents, who fished for a living. Through out the years I have learned different techniques and secrets of fishing. I have been very successful commercial fishing and in tournaments. In this blog there will be bottom fishing, trolling, crabbing, fishing buoys, baiting, using the green stick, baiting and much more.



We invited B.J.'s friends Greg Hutson from Gold River, California and his brother-in-law Bob Buss from Owasso, Oklahoma to join us on our fishing trip to the North Shore of Maui. They had previously fished on the Leeward side of Maui experiencing flat water.
Although we were aware that the winds on the North Shore could be as strong as 15 – 25 knots, resulting in 4-9 foot swells, when we started it was just a slight breeze with nice water. We headed out as the sun was rising over the ocean, a beautiful sight. We put out a few lines and set our course for the 500 fathom ledge. We were admiring our beautiful Island behind us when the wind began to pick up and the swells got bigger and bigger as we continued toward the ledge. Looking west we saw a spectacular double rainbow, forgetting for a second the weather conditions escalating. Most fishermen would be feeling queasy from this surge.
As we got closer to the ledge we got our first hook-up with a nice 22# Mahi-mahi. Our friends experienced their first catch on the North Shore. This catch encouraged all of us to keep going! The weather got worse and uncomfortable but being boat owners themselves our visitors insisted we forge on, which we did. We had a double strike of Ono's –20# and 15#. At that point we all decided we had enough fish and with the weather continuing to get worse, good judgment prevailed and we headed home, snagging a 25# Spear Fish (really good sashimi).
It was another beautiful exciting day in Paradise fishing with friends.

Good Fishing!
Rainbow Runner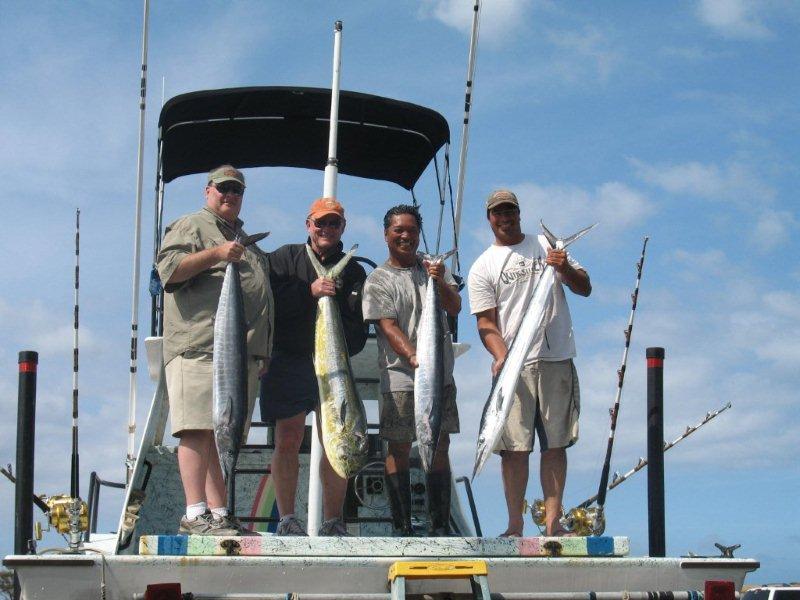 Ben Wong from Let's Go Fishing will be featuring us on the Rainbow Runner, using the Green Stick and deep-sea jigging. It will be airing 2/12/12, at 5:00pm on KHON channel 2.

Stay tuned.....
Rainbow Runner


Archive by Month





Blog Stats





Posts:

214

Comments:

79

Visits:

55,809

Page Views:

169,608
©2023 Maui Fishing Secrets, All rights reserved.