Welcome to Maui Fishing Secrets!

Aloha, My name is Armelio Cabatingan. My boat name is the "Rainbow Runner". I grew up fishing here on Maui with my father and grandparents, who fished for a living. Through out the years I have learned different techniques and secrets of fishing. I have been very successful commercial fishing and in tournaments. In this blog there will be bottom fishing, trolling, crabbing, fishing buoys, baiting, using the green stick, baiting and much more.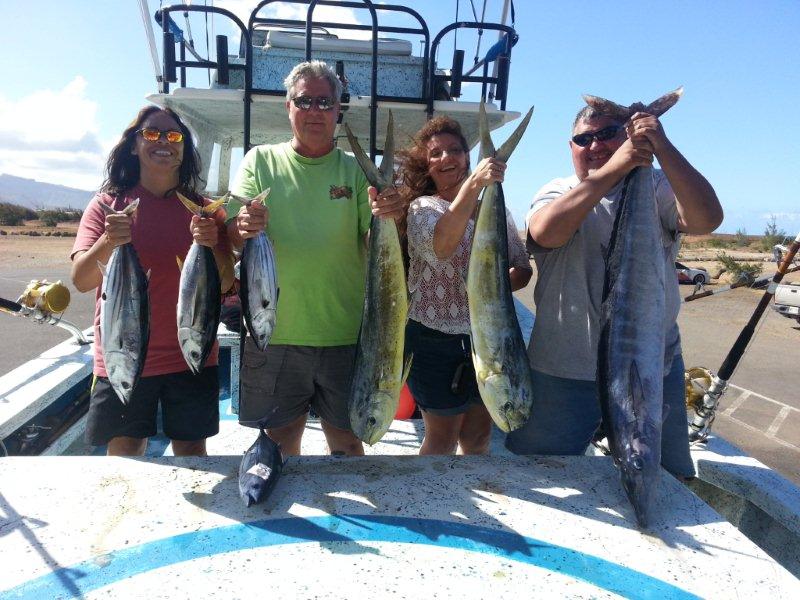 To start off, I want to wish Gary and Dorothy Happy 20th Anniversary. In the picture from left to right is, Maxine, Max, Dorothy and Gary. These are friends from the mainland that I took fishing last weekend. We fished the North Shore of Maui. The weather was our normal trades at 15 -20 knots. I was pretty impressed that this group of friends lasted all day. We had a lot of fun and caught a lot of fish. They should be proud they survived fishing The North Shore.
Keep A Tight Line....
Rainbow Runner


Archive by Month





Blog Stats





Posts:

214

Comments:

79

Visits:

55,809

Page Views:

169,608
©2023 Maui Fishing Secrets, All rights reserved.